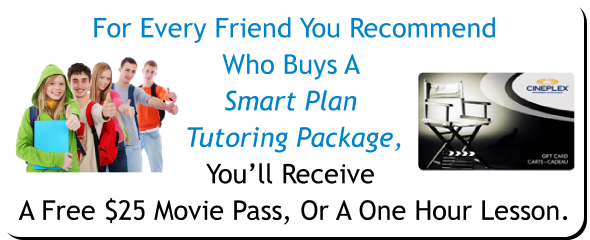 At Explanations Unlimited, we like helping students achieve their academic potential.
In fact, as Toronto's Tutoring Authority, we have been assisting students with their studies in math, science, chemistry, physics, English, & French (plus more) since 1980.
Know someone who would benefit from high-quality, private tutoring
in the comfort & convenience of their own home or workplace?
If so, refer them to us today, & start earning free rewards.
The more friends you send, the more rewards you collect.

Referrers:
Whether you prefer to relax in a movie theatre, or receive free tutoring, get started now collecting these great rewards.
You will receive either:

A $25 Cineplex Odeon Gift Card
(whether you are a registered client or not), or


1 Free Hour of Private Tutoring
(for registered clients only)
For each new client who you referred that:
Completes our free "No-Obligation" Online Enrolment Form, including their
valid email address, &
Purchases one of our Smart Plan Tutoring Packages, &
Mentions your full name (as the Referrer) when they are finalizing their student registration with our Head Office, &
Gets matched & started with their Explanations Unlimited personal tutor.


Limited Time Offer. Hurry, before it disappears!